<< Back to main
"Ask a Grower", vol. III - Clingstone/Freestone
Posted 7/1/2010 11:43am by Ben Wenk.
Peaches are on everyone's mind as we delve into the first pickings of the season. Curiosity with these fuzzy summer treats yielded this question, via our Twitter account:
"Is there a way for me to determine if a peach is freestone or cling just by looking at it?" - asks Kelly "Miss Peach" G. of Washington DC (@kgdc1)
Great question from a true peach enthusiast! The short answer is no, there is no sound way other than to know the variety and know its tendency. Let's examine things a little closer.
The difference between clingstone peaches and freestone peaches is little more than what you would think. For clingstone peach varieties, the flesh of the peach will cling to the stone (or pit), making it more difficult to remove. Freestone peaches separate easily from the pit, making it easier to pull out once the fruit is sliced in half. Some peach varieties, as we'll discuss later, advertise themselves as "semi-cling". As much as I'd like to tell you, our valued customers and random web watchers, that "this peach is semi-cling, not clingstone", the truth of the matter is so very few semi-cling peaches ever separate from the pit that you might as well not even make the distinction.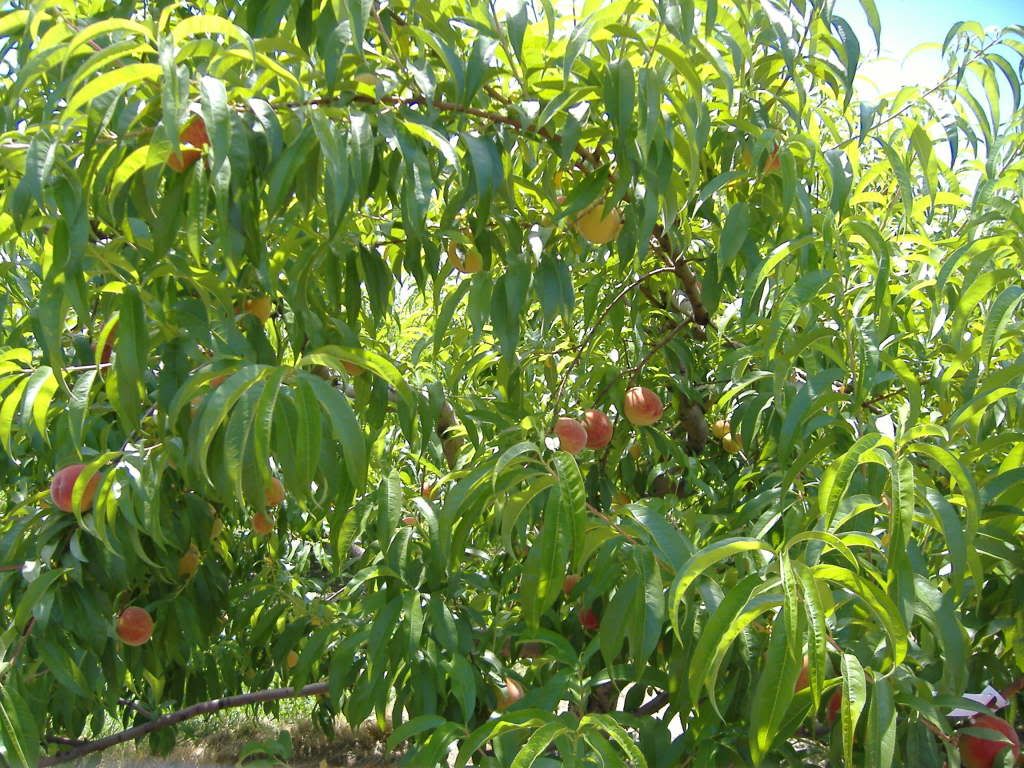 At the time of this writing, at the start of the 2010 peach season, our earliest ripening peach, our 'Baby Juble' peaches are clingstone. We have several earlier varieties planted who will also be cling. 'Rising Star' and 'Sentry' are next, both reportedly "semi-clingstone" and you remember what that means. 'Red Star' you will get a few more freestone peaches than other "semi-clings" but our first true freestone peach is 'John Boy'. From that point forward, all of our peaches are freestone. 'White Lady' is our first freestone white peach. We grow a mid-season clingstone called "Baby Gold #5" to make our canned peaches. If you ever had a notion to can some for yourself (to deploy some good rural verbiage), you can special request some Baby Gold #5's from us!
So which is better? Well, everyone likes freestone better, mostly because they like to pull out the pit. Truthfully, there's nothing about a freestone peach that tastes better than a clingstone. If one peach tastes better than another, it's because the variety is good, not necessarily because it fell off the pit. 'Rising Star' and 'Baby Gold #5' are two of my favorite peaches for flavor and they are clings, but I understand the preference folks have for freestone.
So to wrap things up, no, you cannot tell a clingstone from a freestone merely by a peach's appearance. You'd need to "Ask a Grower" to learn about the peaches he or she brought to market! Thanks for the question, enjoy the peaches, and keep those questions coming!
-Farmer Ben