<< Back to main
Growing Greener: Scouting and Monitoring
Posted 7/15/2009 2:16pm by Ben Wenk.
This is the second blog in the Growing Greener series - getting in depth with Three Springs Fruit Farm Growing Practices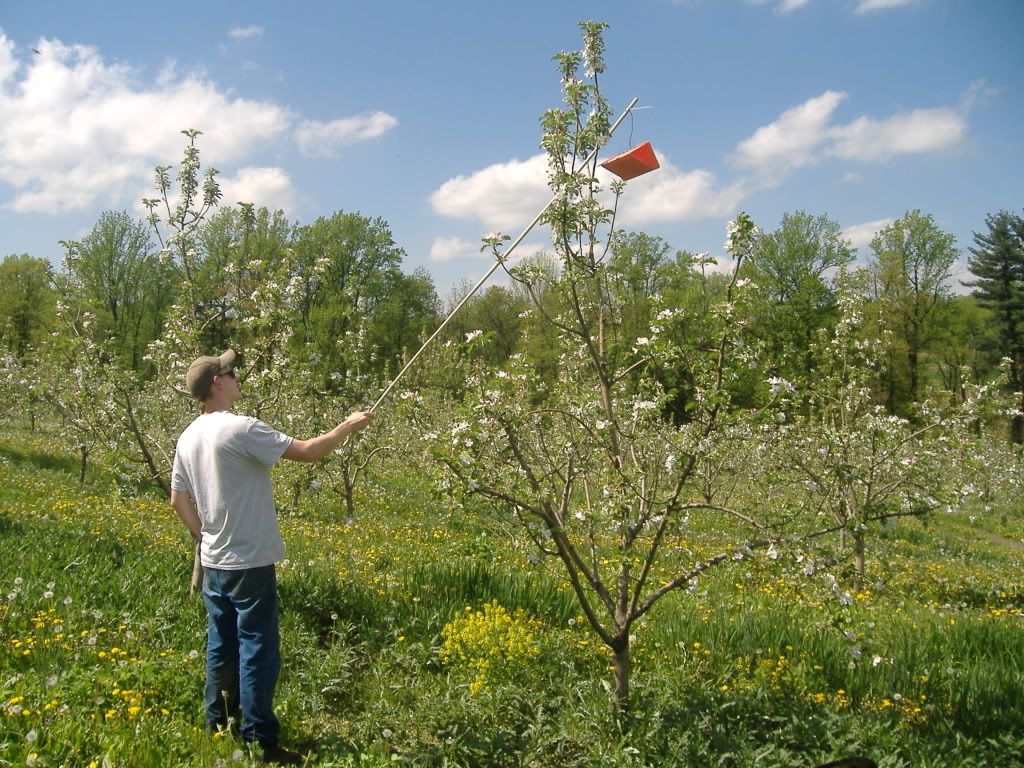 Hello again, and welcome to another Growing Greener blog entry. In this series of blogs, I try to expand into a little detail on growing practices since we are asked so frequently about them. Despite what you might think, I'm glad to answer so many questions about them because if you didn't ask, you didn't care! And if you didn't care, you'd just buy your produce in the grocery store anyhow! Plus, if you stand behind the way your produce is grown as we do, why wouldn't you answer all the questions?
One thing I stress to customers who ask about our growing practices is "we don't spray unless we have to" and we spray "as little as possible". I can say this with such assurance because I personally go out of my way to see that it is true. The only way you can succeed in growing quality produce that is minimally sprayed is to know what's out there... or not out there, preferably. At Three Springs, this is accomplished with extensive pheromone trapping and monitoring.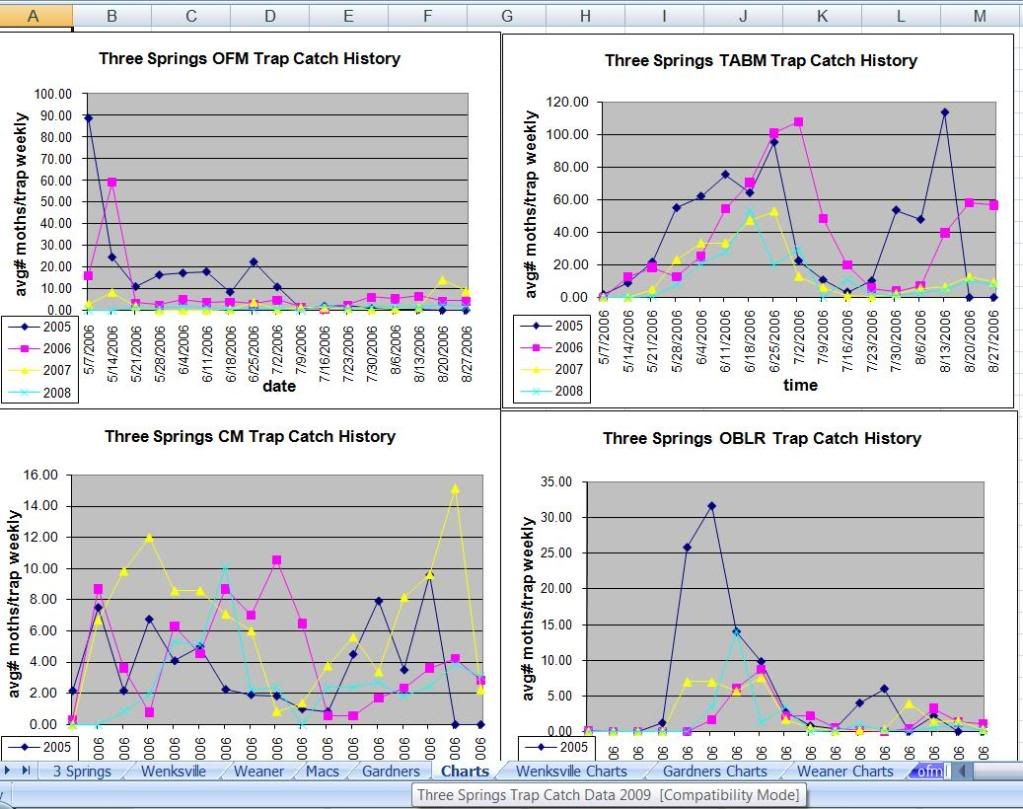 Scattered strategically throughout 300 acres of orchards at Three Springs are 102 pheromone traps. These traps use the same synthetic pheromones that prevent mating in most blocks of tree fruit. Similarly, males twitch their noses and fly through our orchards at night in search of mating opportunities. Just when they think they've locked in on something and perch themselves to investigate further, their tiny moth legs are glued to the paper at the bottom of these traps (see pic). There the pests stay until I arrive weekly to count them and remove them from their sticky final resting places. These counts are recorded, tabulated, and compared to the documented biological life cycles of the pests, as recorded at the PSU Fruit Lab as well as the trap catches at our farm for previous years. This way, we can keep track of all the variables. When will this species hatch and how big that hatch be? In what parts of which orchards are populations highest? Where are we least susceptible to insect damage? Is this management strategy performing better than this one? How's the mating disruption holding up? We can come up with a pretty good idea what all of these answers might be just from the weekly trap counts, especially compared to our historical trap data and that provided by the PSU Fruit Lab. This information combined with observations made me, Dave, and John on disease incidence and populations of beneficials we've observed can provide us with the information needed to determine what action, if any, is best.
So, while growing tree fruits without spraying isn't feasible with the research we have currently, we can take all of these steps above and beyond to ensure that we are spraying as little as we can get away with! After all, it's not only our food too, it's our working environment we're talking about here! You can't farm for over 100 years without a healthy amount of sustainability in your operation.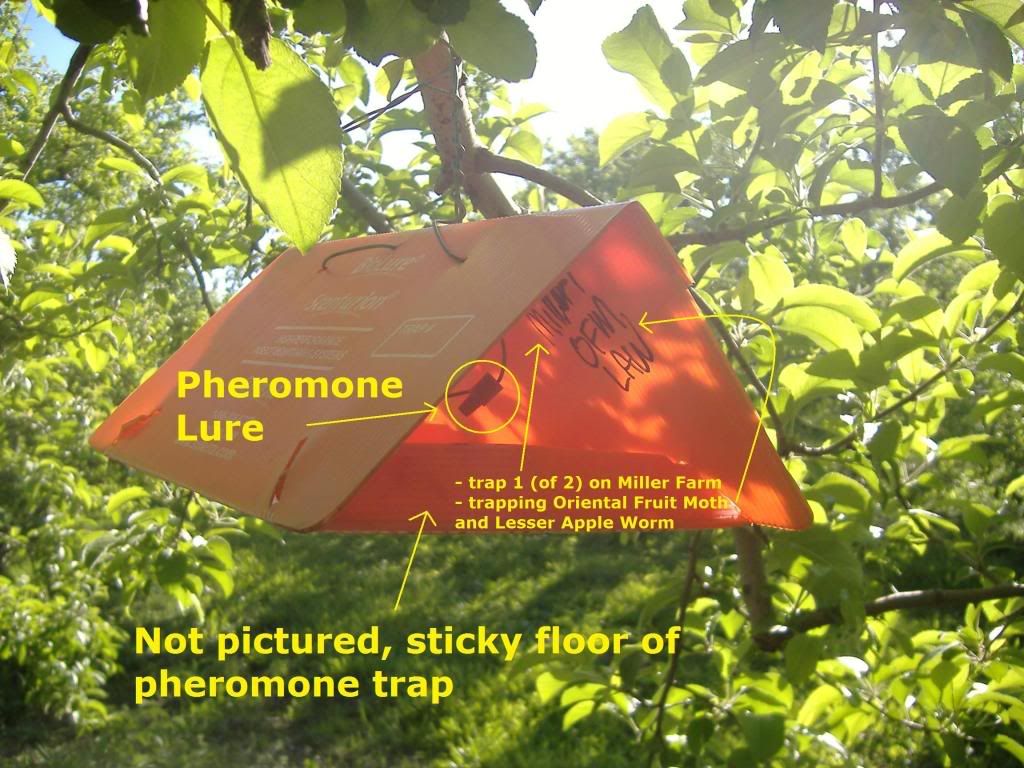 Further reading:
or more - Growing Practices, Food Safety, & IPM