<< Back
history
Posted 8/27/2014 3:53pm by Ben Wenk.
Why Are Peaches Fuzzy?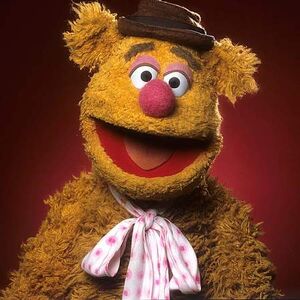 No, not Fozzie! Fuzzy!

This question was posed to me via twitter by Sean, proprietor and brewmaster at Mellody Brewing Co., food maven, #tastingjawn master, stylish bow tie wearer, friend of the farm, and stalwart Phillies supporter:
@3springsfruit why are peaches fuzzy?

— MellodyBrewing (@mellodybrewing) August 26, 2014
A great question, Sean, and a worthy blog entry in our "Ask a Grower" series.
Peaches, Prunus persica, were originally grown in China. Clemson claims these fruits washed up on the shores of the New World in 1571 with Spanish missionaries, first arriving in what's now St. Simon's Island, Georgia. So, they evolved in a climate and environment not very familiar to me.
However, by my observation here in the Eastern US, peach fuzz (or pubescence to all we Horticulture nerds) is a natural defense system for protecting the fruits from rainwater. The tiny hairs allow droplets of water to sit on top of them and not on the more vulnerable skin of the fruit. Now certainly, when rains are heavy, the peaches will get wet. But for light rains or heavy dews, it's conceivable peaches could be more susceptible to rots and bacteria than they already are without that pubescence.
Unless, they just adapted to express the recessive allele for pubescence and became nectarines. Nectarines are simply fuzz-less peaches. Though there are markedly different flavors between peaches and nectarines in many cases, scientifically, this is all that separates them. Why don't nectarines rot more than peaches? Well... hehe - sometimes they do. However, they've been naturally selected for smoother and smoother skin, allowing (in an ideal environment) to allow rain waters to slip-slide all down the fruits and onto the ground, feeding the roots.
Some suspect peach fuzz can deter browsing from insects and other animals. Well... as I said, I've never been to China. The super smart-alecky farmer notion in me would like to know why it hasn't stopped any stink bugs, Oriental Fruit Moths, Tarnished Plant Bugs, Western Flower Thrips, Tufted Apple Budmoth, Plum Curculio, crows, turkeys, or deer that we have here in our environment... just to name a few. I'm just glad it hasn't stopped you, the faithful 3Springs blog reader and peach devotee, from browsing on them at your home!
Wocka Wocka Wocka!
Farmer Ben
Posted 8/7/2014 2:06pm by Ben Wenk.
Heirloom, Just Old, or Ugly

Heirloom tomatoes are officially a thing! Or so I'm told.
All jokes aside, heirloom tomatoes more than a thing, they're an awesome thing! Since their advent into the marketplace, many other things have been anointed as "heirloom" as the term has come to be synonymous with a level of quality. But what does the word mean and how is it used? How is the term abused? Let's (blanch, and) peel back some tomato skin and learn more!
When a clock or a quilt is a family heirloom, it's an item that's been handed down in the family for generations. While there's no consensus definition of heirloom as applied to tomatoes, this first premise is required in any definition of heirloom - it must be a tomato that's been handed down for generations. When you hand down Grandfather's watch to a new generation, it's as simple as keeping it somewhere safe until you entrust a younger family member to keep it somewhere safe. To pass along an heirloom tomato, you need to save seeds and use those seeds to grow a new crop of tomatoes of the same variety (ideally) every year. Therefore, a hybridized tomato, whose seeds are infertile and designed such that their seeds must be purchased every year and not saved from the fruit, cannot be an heirloom.
Without any real numbers to back me up, hybridized tomatoes (red slicers in the grocery store and their ilk) make up the overwhelming majority of the marketplace but represent a very tiny percentage of the biodiversity of the tomato (tomatoes originated in Mexico, for the nutritional anthropologists out there). It's impossible to quantify the number of heirloom tomato varieties they are because many are open pollinated and the genetic makeup of each tomato can change from year to year. In this way, a seed saver's tomato patch is similar to a livestock operation - such that your neighbor's Green Zebra tomatoes might possess different characteristics than yours if you're selecting your seeds for different quantities.
For me, that's the whole of my definition. While the tomatoes your family brought over from Italy and have grown every year in your garden are, maybe, more heirloom (if there can be such a thing) than my Arkansas Traveler, if the tomato can be passed down (and has been), it's an heirloom in my eyes.
The Arkansas Traveler (pictured above) was an intentional example, to demonstrate a counter argument. One of the first things you'll learn when you study heirloom tomatoes is there are multiple and conflicting stories around the origin of each variety. Many of these are fictionalized and romanticized to make them more appealing. So, depending on which story you believe, the Arkansas Traveler was either passed down "through folks in the Mountains of Arkansas where it was a hillbilly favorite" or it was developed by tomato breeders at the University of Arkansas anywhere from the 1930's to the 1970's. But this much is for sure, the seeds saved from our Arkansas Traveler tomatoes will yield tomatoes similar to its predecessors. Since this has occurred over at least one generation, I consider these heirloom tomatoes. Again, the main distinction being it's viability from seed.
So, why do heirloom tomatoes taste so much better? First, a reminder that language is what we make it to be, just like a wiki. Sometimes, our population gets it right. Sometimes, we abuse terms like "artisan" (NSFW language). But, there's nothing about "heirloom" that automatically means delicious! More than likely, the heirloom tomato seeds were saved by folks because somebody found them tasty. However, I've had plenty of heirloom tomatoes that didn't taste good and a very select few hybrid tomatoes that did taste very good as well. However, by in large, tomato breeders bred hybrid tomatoes to look good, store well, and take abuse. Heirloom tomato seed savers have selected and saved seeds almost exclusively for taste and flavor. And that's why heirloom tomatoes taste better. It isn't that they automatically taste better, it's because they were selected for taste rather than anything but, in the case of their hybrid counterparts.
So! To review, in a very logic problem kind of way. All non-hybridized seeds can be heirlooms, but not every one is. All heirlooms are non-hybridized. Not all "old" tomato varieties are heirlooms, BUT (again) all heirlooms are (at least a few generations) old. Heirloom tomato seeds can be saved based on any preferable characteristic but are most commonly saved because of their superior flavor, often resulting oddly colored and oddly shaped tomatoes that taste good! However, not all heirloom tomatoes are oddly colored and oddly shaped just as not all hybrid tomatoes are uniformly colored and shaped. Anything can be considered "heirloom" if it has been passed down over a number of years, but that doesn't mean it has the characteristics you want.
And that is as comprehensive a lecture on heirloom tomatoes as you'd ever care to read!
Posted 9/16/2010 4:00pm by Ben Wenk.
This year, I've decided to sell two kinds of Red Delicious at our farmers market and I thought it a good opportunity to talk apple variety "strains" and to talk about the fascinating history of the apple they called "Delicious" - its rise to fame and its fall from favor. Most of the following is an oral history - I don't remember where I learned some of these details. The minutiae comes from wikipedia because I'm a farmer, not a journalist and I'm not willing to reference everything.
Up until the turn of the century, the Ben Davis apple was the national sensation - the most popular, most planted apple variety in the United States. What I was told about the Delicious apple is slightly different than what I'm reading in this the little wikipedia refresher linked above, so I'll tell you what I was told and you can put as much faith in it as you'd like. I was told there was contest for the best apple variety in the United States to coincide with the 1904 World's Fair in St. Louis. The winner was this sweet mottled apple called "Hawkeye" brought from Iowa by an older fellow named Jesse Hiatt (thanks, wikipedia). I was told Mr. Hiatt couldn't be located when the time came for him to claim his prize. With their eyes on this great new variety, Stark Brothers Nursery (still around today) held their own contest, hoping this "Hawkeye" would be submitted again. It was, they made Mr. Hiatt a great offer and began propogating and selling "Stark's Delicious" shortly after. Again, this is the version I was told. Starks claims on their website to have been selling Stark's Red Delicious since 1893, so take my version for what its worth.
The name of the apple was never intended to be "Red Delicious", you see. The name began merely as "Delicious" and has only more recently been called Red Delicious after the folks who discovered a "delicious" yellow fleshed apple growing wild in West Virginia decided to piggyback off of the success of "Delicious" by naming their fruit "Gold Delicious", necessitating the Starks variety and all future sports be called "Red Delicious" to avoid confusion. The perfectly red, perfectly conical fruits with the accentuated calex "bumps" is the result of years of selective breeding. You'll find the "Stark's Delicious" apple to be very tasty but not visually appealing fruit. Orchardists and plant breeders have selected for and taken cuttings from naturally occuring mutants or "sports" (also "strains") of this variety as long as the original has been around. Marketers discovered that consumers at that time were looking for dark colorand shape uniformity (which also packed better to ship). So these qualities were most preferred by breeders as they sought (like everyone else) to find a better Red Delicious. The rest of the story, you likely know already as a big apple fan, reading this blog. Color and shape were chosen ahead of flavor in development of new apple varieties. When customers proved that they would eat a mottled, bi-color apple if it tasted terrific (see 'Gala', 'Fuji', more recently 'Honeycrisp'), the Red Delicious have began a 'Ben Davis'-like slide down the fresh apple pecking order. For now, we still have a few "Stark's Delicious" trees in the ground. This is your chance to experience where this variety began before we remove these trees, never to be heard from again!
[update 9/10/14: We no longer grow "Hawkeye", for one. For second, this piece in The Atlantic relates a more complete version of the history Red Delicious despite their incorrect assertion that it's the most widely grown apple in the US. According to a recent report by US Apple, Gold Delicious is the most widely grown variety. I got no beef with Golds - they're pretty stellar, actually]