<< Back to main
Makin' Waves In The Food Biz!
Posted 7/3/2012 1:03pm by Ben Wenk.
I'd been doing farmers markets for about three years before I realized I was part of the food industry. I know that sounds silly, but we farmer types are very territorial and are so proud to be counted among the roughly 0.6% of the population in our country who work in agriculture, we are slow to recognize this crossover.
But now I'm lovin' it! I've met a lot of great people working in food and it's changed a lot about what we do here at Three Springs. We're like kindred spirits - those living in the farming and restaurant realms. We all love what we do (most of the time), keep weird and long hours, put up with a lot of bologna, and bring a unique perspective to everyday things. I like being in the food industry and I thank them for making hayseeds much like myself and others of my ilk to be welcome in their company.
What I didn't expect from my newfound role in food was to receive praise from some of their finest - and both in the same month, for what its worth!
The first was some lovin' we got from none other than...
In this sweet review of Headhouse Market! Cheers to Blooming Glen, Birchrun Hills, Market Day Canele, and Wild Flour Bakery who make Sunday mornings fun and delish for us too!
I was told the famous window sticker is in the mail...
The second was a shout out from The Philly Inquirer's Craig LaBan. The renown restaurant critic gave us special props in the open of his weekly food chat. Then, hit us back on twitter with this juicy review: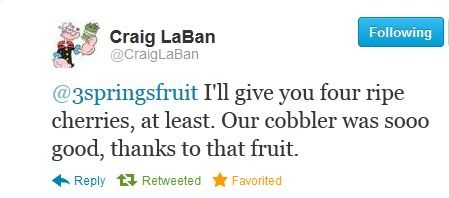 For our readers at the James Beard Foundation and Michelin Guide, our contact information can be found at the bottom of this blog!
That was a joke guys.
-FB