<< Back to main
The 2010 NL East Champion Phillies "Apple" Lineup!
Posted 10/7/2010 3:46pm by Ben Wenk.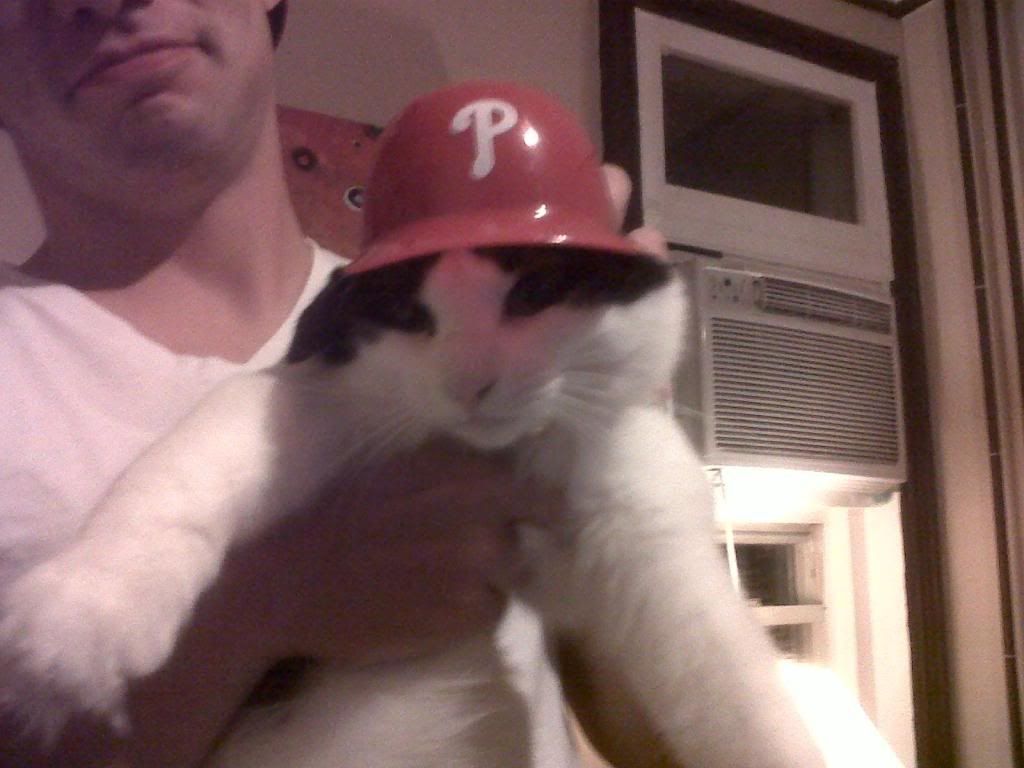 Alrighty, Phils fans! Playoffs are in full swing again this year and we're back with another winning apple lineup! As some of you already know, we've been doing farmers markets in Philly for four years and, not coincidentally, the Fightins have won the NL East every year (I'm definitely not omitting Chase Utley again this year)! Furthermore, I've likened the Phillies players to our ripe apple varieties each year, leading, by in large, to terrific postseason performances like what we witnessed from Doc Halladay last night. Afterall, I was brainstorming this lineup last night when I had to stop and watch history be made! Bodes well, folks. We've got high Apple Pie in the sky hopes!

Honeycrisp - Roy "Doc" Halladay, SP He's the best! What else can you say? He won 21 games, first 20 game winner since Steve Carlton. Honeycrisp is the perfect eating apple, "Doc" threw a perfect game! The National League is certainly wishing that an apple a day could keep "Doc" away (we don't sell to the competition). side note: he's driving in a run as I type this!

Jonagold - Roy Oswalt, SP - The Phillies are set up for big things based on their "Bermuda Triangle" of starting pitching (H-2,O). Our "Big Three" (which is really four) includes Honeycrisp, Jonagold, and Gala (and Fuji, more on this later). And since Roy was the last piece of the Triangle (as Jonagold is the last of these varieties to ripen), it's easy to see the similarity between this Texas righty and this... sweet/tart... crunchy piece of fruit... am I right?

Gala - Cole Hamels, SP - Cole was the first of the Triangle to arrive on the scene, in early August! No, wait... those were the Gala. Hamels has been with the Phillies since being a first round pick of the club in the 2002 draft. He's had a bounce back season in 2010, has a really sweet flavor, and is the perfect size for kids lunchboxes! Oh... switch that... err... I think you follow.

Fuji - Chase Utley, 2B - The man was an unstoppable force in last years postseason and this fruit grower is looking forward to more of the same from this slick-hitting second baseman. In light of his unforgivable and errant initial exclusion in this lineup last year, Chase is taking his rightful place at the top of our apple pecking order. Also, be sure to cut up a sweet Fuji apple to balance the tangy salad dressings or sharp cheeses in your postseason snacking.

Red Delicious - Jayson Werth, OF - Jayson Werth's got a great look about him, with the bushy beard and the long hair. Red Delicious looks good in a fruit bowl beside a banana! ... sweet!

Golden Delicious - Carlos "Chooch" Ruiz, C - Phils fans, hear me out. You know how you've exhausted yourself trying to explain how important Chooch is to the Phils to fans of other teams? This is how I feel about folks who tell me Golds are mushy! Most Underrated Phillie and Most Undeerrated Apple are a perfect pairing... kind of like Golds with Peanut Butter when the Phils are up four runs in the fourth (as I write this lineup Wednesday night).

Empire - Shane "The Flyin' Hawaiian" Victorino, OF - More proof that good things come in small packages, this diminuative switch hitter's 18 home runs was good for third on a team loaded with (albeit injured, in some cases this year) power hitters. Empire apples, also generally smaller, are thin-skinned and tasty - a little more sweet than tart.

Ida Red - Wilson Valdez, IF - Worthy of attention, this journeyman filled in admirably, providing steady defense at many infield positions while many of the Phillies infield regulars missed time to various injuries. Ida Reds fill pies well, provide firm, steady texture to many baking applications and fills many positions for apple fans who bake, enjoy a tart eating apples, or need a good cider base!

Nittany - Ryan Howard, 1B - When Ryan turns on that inside fastball, his creamy-smooth swing gets Phillies fans all charged up. The creamy sweet-tart flavor of the Nittany apple is a real homerun for folks who love good eating apples (rimshot).

Cameo - Raul Ibanez, LF - The man who made Phillies fans forget completely about Pat Burrell is getting primed for the postseason. Despite more moderate numbers in most power statistics, Ibanez hit for a slightly better average and got on base more frequently this year compared to last. It's easy to let his torrid 2009 campaign make light of his key contributions to this year's club. Cameo have super tart-sweet flavor and share a name with a funky 80's band... they can't all fit together nicely, folks!

Granny Smith - Brad "Lights Out" Lidge, CL - He's back! In addition to moonlighting as a local food advocate (cheers, Brad, Lindsay and Food Trust folks), he converted an eye-popping 27 of 32 save situations and put himself in contention for comeback player of the year, though I'm sure Brad would tell you he has his mind of some other hardware. All he's done is show up at the end of games and kick the door shut. By comparision, Granny Smiths show up at the end of the apple harvest season and, despite their very docile monicker, kick in with a booming tart flavor.
Rome Beauty - Ben Francisco, OF - Cliff Lee might have moved on, but he wasn't the only man to come over in that fateful trade from Cleveland. Francisco, besides having the best praenomen on the roster (pip, pip) adds to a deep bench that can make or break a team's postseason bid. He's also perfect in steals this season, swiping eight bags without being caught stealing. If you're needing a sturdy apple to add to your playoff pie, we give Rome Beauty high marks. We just ask that you pay for them as opposed to stealing them. Just because Ben Francisco doesn't get caught doesn't mean you won't and besides, we round down to the quarter every time!
Mutsu - Placido Polanco, IF - Placido Polanco might have the largest head in the history of Major League baseball! Look at the size of that gourd! It's like a watermelon on a toothpick! But seriously, the former Phil came back to play everyday third base and didn't disappoint. Feel better, P-squared. By the way, the largest Mutsu apples are the size of a toddler's cranium... nothing grows to the size of Polanco's noggin. I swear pop-outs get stuck in its orbit.
Bosc Pears - Jimmy Rollins, SS - The former NL MVP missed a lot of time to injury and probably isn't 100% yet but is one of the most important players on which the Phillies rely. He provides gold glove caliber defense up the middle, gets on base and sets the table for the big eaters in the lineup, all while providing a lot of the inspiration in the clubhouse. Despite his sweet, smooth athleticism, he plays with a lot of grit. Similarly, despite their gritty texture, the Bosc Pears are the sweetest fruit at Three Springs... its the only pear we have this time of year. Here's hopin' Jimmy & Chase turn a "pear" every chance they get this postseason! (just a reminder that cheesy goes with pears just as well as with apples)
see also:
2008 Phillies Lineup (revived soon)
Also, most of you know about Brad and Lindsay Lidge's Campaign with the Food Trust for Healthy Eating but if you didn't, here's some info: