<< Back
value added
Posted 8/7/2013 12:03pm by Ben Wenk.
Three Cheers for L.E.A.F!

It took a lot of work, sweat, blood, and tears to bring this family farm into its seventh generation of stewardship. In respect of that fact and the privelege I feel, as a seventh generation grower, to have a farm to inherit, we try to give back whenever we can.
And in so doing, we find the rewards come back to us threefold! A fine example of this was our participation in the first season of Project LEAF. Friend of the farm Heidi Witmer has been putting years of effort into getting this project off the ground and, in our opinion, she hit it out of the park. The kids were outstanding and asked terrific questions - they were so engaged when they came to visit us. They worked hard and learned a lot - making cases of value added products from a wide range of our "secondy" farm products. The dinner they served and prepared for the final LEAF Feast was epic and delicious.
I've always said, more than the food, more than the lifestyle, more than pride I feel - the community I work in nearly always wins out as "top perk of the job".
Cheers, LEAF!
Posted 10/3/2009 1:02pm by Ben Wenk.
Three Springs Fruit Farm is
Kosher Certified!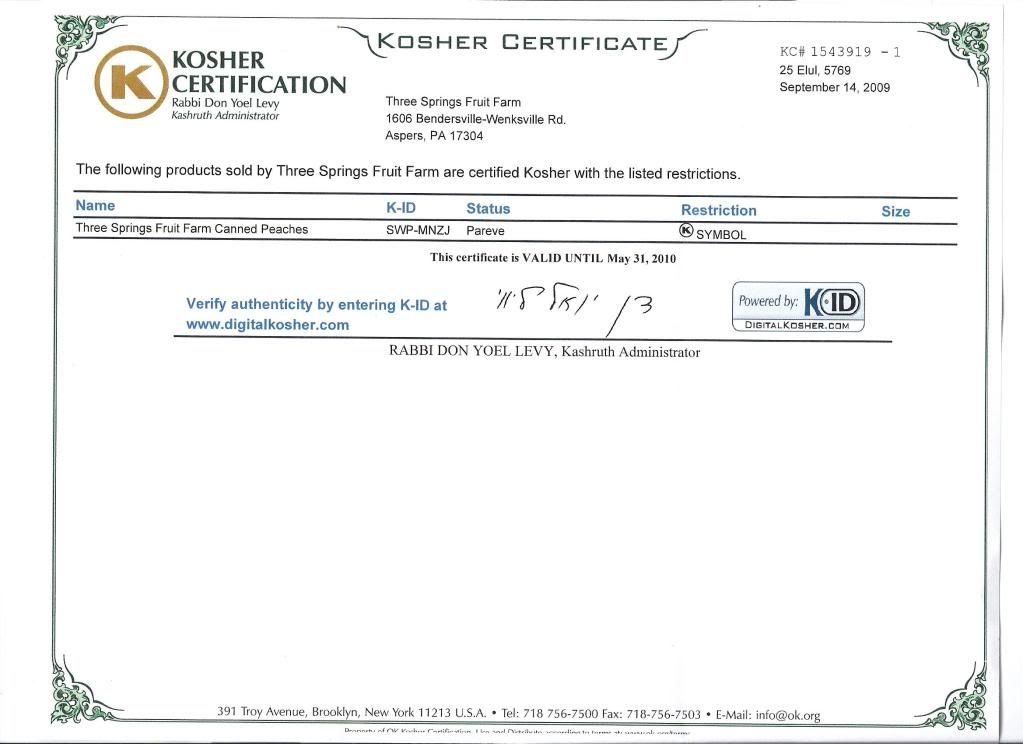 After months working with our processers, Kime's Cider Mill, we have fullfilled all of our kosher obligations and are now going to be Kosher (Pareve) certified for the following products:
Apple Sauce

Apple Butter

Pear Butter

Canned Peaches

Fuji Apple Juice

Ginger Apple Juice

Tart Cherry Juice
Plus a few more products we hope to debut in the springtime. We are working with our cider presser, Bermudian Springs Cider Mill, to have our "Must Eat" Apple Cider achieve the same certification. We're eager to move our current inventory because each labelled product on our stand will carry the kosher certified symbol from here on out!